UEW's School of Creative Arts Hosts, "Creative Arts Conference 2022"
One of the core of every country's most lucrative export is 'Creative Arts'. The problem most countries face is the ability to package and manage the sector to reap its fruits.
In aid of this, the School of Creative Arts at the University of Education, Winneba has thought it wise to educate the sector and all its related parts or elements to better their craft and operations to help yield the desirable outcomes.
The school is once again organizing a power packed conference dubbed, "Creative Arts Conference 2022" which is scheduled to happen from the 28th of June to the 30th of June, 2022. The conference which is stemmed on the theme, "Redeveloping Creative Arts Education Policy And Research For Sustainable Industrial Development, Creative Arts Policy Framework, Creative Arts Therapy, Creative Economy, Among Others" will help and explore the avenues for developing and/or redeveloping efficient and effective policies that will strengthen cultural and creative industries.
The team is inviting all international bodies, students, early and seasoned career professionals, scholars and educators, museum specialists, designers and marketers/promoters of the creative arts industry. Also, scholars of other research areas that in one way or the other is linked to creative arts production, branding, marketing, publicity and promotion are not left out.
The conference as chaired by the noble Vice Chancellor of UEW, Prof. Mawutor Avoke, and hosted by the Dean of the School of Creative Arts, Prof. Patrique de-Graft Yankson, Prof. Daniel Kodzo Avorgbedor and Prof. Emmanuel Obed Acquah are the keynote speakers. Also, Madam Janet Edna Nyame, the Executive Director  of the National Commission on Culture (NCC) and Madam Gyankroma Akuffo-Addo, the Director of Creative Arts Agency (CAA) will be the guest speakers for the event.
This is an event that will stultify the fears that impede the growth of the creative arts industry, so it will be worthwhile for all and sundry who matter in the industry to be a part of.
About Author

SHS Student Changes The Narrative Against Fashion In Central Region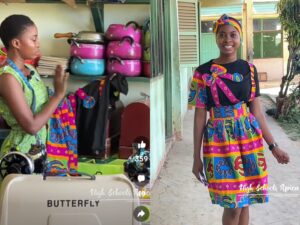 In this era of enterprenuership, it is a blessing to find Ghana endowed with so much talented younglings who will affect the economic society with so much financial exploits in the nearest future through their intrinsic abilities.
One fine young student of Kwegyir Aggrey Senior Technical High School, Muniratu Jibril is fast gaining popularity as one of the best student designers in Central Region. As a Home Science student, her expertise in fashion is unpaired. From creating complex but nice designs and slaying on the runway during fairs is something that wows even her tutors. Her savoir faire abilities can also not be left out.
Although a student, Muniratu is said to be designing clothes for people for functions like weddings, engagements, graduations, et all.
It is due to her prowess that drove High Schools Youtuber, Goshers of High Schools Africa on youtube to do a documentary of Muniratu's creative process and her dreams and aspirations in the future.
Watch from below her conversation with the team of High Schools Africa.
Also checkout the video on Facebook;
https://www.facebook.com/gosherspost/videos/270553301985097/?mibextid=FG1OuXcoECp1WxxK
About Author
Kofi Kingston Puts Up ICT Facility In His Hometown In Ghana
Kofi Kingston Puts Up ICT Facility In His Hometown In Ghana
Ghanaian-born WWE superstar Kofi Kingston, gave back to society by building an information and communications technology (ICT) facility in his hometown of Atwima Takyiman in the Ashanti Region.
Images of the facility from different building eras were posted on Facebook by a user going by the name of Kwabena Nsafoa.
ALSO CHECK:Nigerian cook who survived three days in a shipwreck
Rumor has it that the technology center will provide training in computer literacy, media and information literacy (MIL), critical thinking, and inventive problem-solving methods to the people of Atwima Takyiman and the adjacent communities.
It was also made known that Kofi Kinston plans to build comparable buildings in other underdeveloped areas of the nation in order to promote appropriate information and technology education.
"Kofi Kingston in Kumasi.. WWE professional wrestler, Kofi Kingston, has built a Center that will offer training in computer literacy, media and information literacy (MIL), critical thinking, and creative problem-solving skills, while instilling a love of reading and research in students in his hometown Atwima Takyiman in the Kwadaso Constituency. He intends to build similar projects in other underprivileged communities in the country. Yɛ daase bro," The caption for Kwabena's post read.
About Author