UTAG takes strike actions today
UTAG takes strike actions today
The four public university labor organizations have announced their intent to go on a historic strike starting from today Thursday, October 13, 2022.
In a post made by Professor Rasford Gyampo says that, "
The NEC of UTAG met this evening (11th October 2022) to consider the resolutions from the various public universities on the proposed Joint Industrial Action to commence on 13th October 2022.
ALSO CHECK:FDA warns public against two brands of contaminated sausage
All the 15 (fifteen) public universities supported the strike. Two universities however pleaded to be allowed to write their exams and complete their respective academic calendars. But this was rejected.
All activities are to be withdrawn with the exception of essential services like security services, medical services, payroll services, and the running of basic schools.
The strike is to be sustained until government rescinds its decision that varied the conditions of service of labor without prior engagement and consultations".
See Post: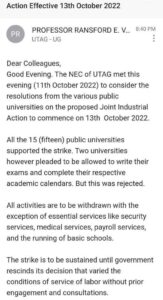 About Author
SHS Student Changes The Narrative Against Fashion In Central Region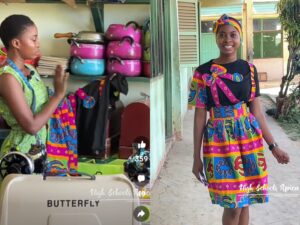 In this era of enterprenuership, it is a blessing to find Ghana endowed with so much talented younglings who will affect the economic society with so much financial exploits in the nearest future through their intrinsic abilities.
One fine young student of Kwegyir Aggrey Senior Technical High School, Muniratu Jibril is fast gaining popularity as one of the best student designers in Central Region. As a Home Science student, her expertise in fashion is unpaired. From creating complex but nice designs and slaying on the runway during fairs is something that wows even her tutors. Her savoir faire abilities can also not be left out.
Although a student, Muniratu is said to be designing clothes for people for functions like weddings, engagements, graduations, et all.
It is due to her prowess that drove High Schools Youtuber, Goshers of High Schools Africa on youtube to do a documentary of Muniratu's creative process and her dreams and aspirations in the future.
Watch from below her conversation with the team of High Schools Africa.
Also checkout the video on Facebook;
https://www.facebook.com/gosherspost/videos/270553301985097/?mibextid=FG1OuXcoECp1WxxK
About Author
Kofi Kingston Puts Up ICT Facility In His Hometown In Ghana
Kofi Kingston Puts Up ICT Facility In His Hometown In Ghana
Ghanaian-born WWE superstar Kofi Kingston, gave back to society by building an information and communications technology (ICT) facility in his hometown of Atwima Takyiman in the Ashanti Region.
Images of the facility from different building eras were posted on Facebook by a user going by the name of Kwabena Nsafoa.
ALSO CHECK:Nigerian cook who survived three days in a shipwreck
Rumor has it that the technology center will provide training in computer literacy, media and information literacy (MIL), critical thinking, and inventive problem-solving methods to the people of Atwima Takyiman and the adjacent communities.
It was also made known that Kofi Kinston plans to build comparable buildings in other underdeveloped areas of the nation in order to promote appropriate information and technology education.
"Kofi Kingston in Kumasi.. WWE professional wrestler, Kofi Kingston, has built a Center that will offer training in computer literacy, media and information literacy (MIL), critical thinking, and creative problem-solving skills, while instilling a love of reading and research in students in his hometown Atwima Takyiman in the Kwadaso Constituency. He intends to build similar projects in other underprivileged communities in the country. Yɛ daase bro," The caption for Kwabena's post read.
About Author