Shatana's Song "Ka Ne Wu" Goes Viral As Fans Jam To It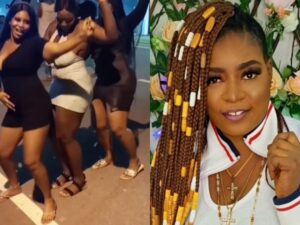 Songstress and queen of conscious music in Ghana, Shatana has entered the trends on social media with her newly released single, "Ka Ne Wu". The song which was released a week ago has appealed to the masses and music lovers. Due to this, many are those who are making videos with it on all media fora.
The masterpiece, "Ka Ne Wu" posits that being truthful always is the key to self actualization and success. Speaking truth  to power without favour is prime in all our endeavors. Also the musician talked about past leaders and influential people who spoke the truth to death but their legacies lives on.
The song which is a mid tempo although didactic will get you grooving owing to the sweet melodies which spices it. This is the more reason, fans could not help but go gaga with the song all over social media. As ladies twerked wildly to the beat and gentlemen danced with their girlfriends with it, another sect also replicated the lyrics with a skit or role play.
Enjoy a compilation of the videos from below.
Also stream, download, listen, enjoy, and share "Ka Ne Wu" by Shatana from below.
About Author
Slow Down by Fina Gh is finally out
Ghanaian multitalented songstress well known in showbiz as Fina Gh has finally come through with her debut single dubbed Slow Down.
Fina Gh is known to be one of the greatest female songwriters and singers who deliver awesome lyrics. Fina Gh's song is about a young woman facing depression but determined to overcome it. The lyrics explore the challenges of mental health, highlighting the protagonist's resilience.
With emotive lyrics and Fina Gh's soulful vocals, the song delivers a powerful message of hope and perseverance in the face of adversity.
Stream S0ng Here
About Author
Ibien Jah releases Audio and Visuals for "Call Me Oga"
King of asafo music, Ibien Jah has proved another versatility in a brand new Afrocentric single titled "Call Me Oga"
The Africa-traditional sounds blended masterpiece was released on November 12, 2023 together with the visuals on all Digital platforms.
In an exclusive interview with Ras General on RG Exclusive, the 'Mama Cry' hitmaker gave detailed information about the song.
"Call Me Oga identifies the true me moving from grass to grace and blowing my own horns to glorified God. We are in a society where negativity has become the order of the day and good things don't sell so you have to find your own way to show your positive works to the world and the best way to do mine is through music" Ibien Said.
"I know this is very unusual of me because the fans know me for Dancehall, but I realized it's time to project my rich traditional Africa instruments through my music for the other parts of the world to see what we have and this is just one of it" He added.
'Call Me Oga' is currently on all Digital platforms and music outlets.
kindly stream from the links below
Listen to Call Me Oga by IbienJah on Boomplay
About Author